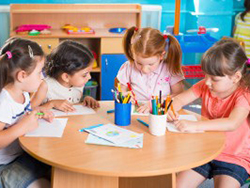 Course Description:
Participants of this course will master the methodology of teaching very young learners and become teachers who can motivate kids and keep them engaged in class activities. The program gives an insight into participant teachers to identify learning needs of young learners and build a collaborative classroom environment.
Working with children who cannot read or write yet in their mother tongue requires specialized knowledge and skills. This course enhances effective teaching of young learners of English focusing on language development and methodology for this (3-7 year olds) age group.
Prerequisites:
Aims:
The course intends to give insights into:
designing fun and educational classroom activities
helping children learn and demonstrate an understanding of the specific course content
preparing competent and confident pre-primary level teachers who stand out from the rest
equipping the trainees with the approaches and methodologies of pre-primary teaching
mastering the skills necessary to create a secure, warm and stimulating environment for this age group.
Requirements for a Certificate:
Minimum attendance requirement is 75% of course events.
Assessed portfolio work for practical tasks like group and individual planning, observation, demonstration, micro-teaching, discussion and feedback sessions.
1000-word end of course Reflective Essay.
Details:
110 – Course Outline:
110.01 – understanding the needs and abilities of this age group
110.02 – creating the right conditions for learning – classroom behaviour
110.03 – planning different tasks and activities to promote accelerated learning
110.04 – integrating content learning to engage and motivate students
110.05 – incorporating content – using the right materials
110.06 – making use of apps and the interactive whiteboard
110.07 – how to make stories come alive
110.08 – recognition, production and early years' literacy through phonics
110.09 – prepare very young learners for reading and writing
110.10 – improving skills with content based learning
110.11 – arrange materials, topics and task types to keep the learners focused and motivated
110.12 – how to plan for the year and key management issues