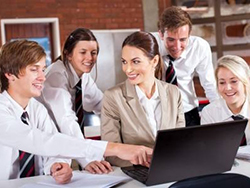 Course Description:
This course concentrates on building improved language awareness and advanced teaching skills through a detailed study of techniques and stages of teaching English to secondary learners. The course is designed for experienced teachers to develop the perception and skills related to secondary school English teachers.
The content includes a variety of instruction types from small group to whole class environments for students from a variety of linguistic, social, and educational backgrounds. The sessions cover techniques and methodology to meet the needs of the country so that the participants will become more aware of 'modern' approaches to English Language Teaching.
Prerequisites:
310 CTS in Introduction to Teaching English to Secondary Learners
320 CTS in Proficiency in Teaching English to Secondary Learners
Aims:
Requirements for a Certificate:
Minimum attendance requirement is 75% of course events.
Assessed portfolio work for practical tasks like group and individual planning, observation, demonstration, micro-teaching, discussion and feedback sessions.
1000-word end of course Reflective Essay.
Details:
Course Outline:
330.01 – Classroom dynamics
330.02 – Presenting Grammar – Timelines
330.03 – Adapting from Coursebooks
330.04 – Lesson planning – tasks, timing, materials
330.05 – Presenting Vocabulary
330.06 – Teaching Reading
330.07 – Vocabulary – ways of Presenting and Practicing
330.08 – Pronunciation – Segmentals
330.09 – Teaching Speaking
330.10 – Pronunciation – Suprasegmentals
330.11 – Teaching Writing
330.12 – Posters and Journals – related issues