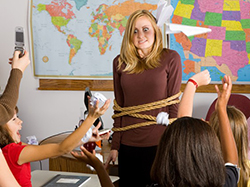 Course Description:
This course aims to introduce teachers of all subjects, including primary, secondary and higher education, to principles of classroom management practice as a key element in creating successful learning environments. It delivers detailed information and practical skills and strategies important to running an effective and well managed classroom.
It covers relevant classroom management frameworks and key theories, which underpin classroom management. Key preventative practices and intervention strategies are introduced along with various perspectives to student behaviour within the context of classroom management leading to increased student engagement in learning.
Prerequisites:
Aims:
The course intends to give insights into:
Requirements for a Certificate:
Minimum attendance requirement is 75% of course events.
Assessed portfolio work for practical tasks like group and individual planning, observation, demonstration, micro-teaching, discussion and feedback sessions.
1000-word end of course Reflective Essay.
Details:
The course provides the participants with in-depth understanding and knowledge of the critical importance of classroom management and its role in the overall behaviour and discipline of students. The course builds on your existing capacity to manage your classroom effectively thus creating an environment that maximises learning for all students.
Course Outline:
530.01 – School discipline, Student behaviour, Classroom structure and Instruction
530.02 – Modern Theories, Models and Applications in teaching
530.03 – Building a classroom community for Trust and Success
530.04 – Emotional empathy and understanding, Creating a sense of belonging
530.05 – Diversity in the classroom – Managing and dealing with Stereotypes
530.06 – Managing groups, maintaining Focus, preventing Disruption
530.07 – Encouraging Peer Relationships and support Student Networks
530.08 – Intrinsic and extrinsic motivation to overcome the Failure Syndrome
530.09 – Differentiation in the classroom for learners, learning and development
530.10 – Dealing with Learning Problems – Promoting and enhancing social skills
530.11 – The conflict cycle, reinforcement of good behaviour and positive outcomes
530.12 – Students with disabilities – Dangers, Health and Safety in schools