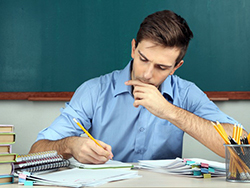 Course Description:
This course aims to introduce teachers of all subjects to the skills essential to successfully plan and teach motivating lessons, including how to develop aims with measurable outcomes and direct implementation of methodological teachings in lesson planning, including context, aims, sequential lesson planning, and evaluation.
The course is designed to assist participants in creating more effective lesson plans by aligning their plans with their students' learning styles and common core requirements. The sessions will enable them to develop lesson plans that are both efficient and effective. The participants will be able to plan their lessons in line with both today's high standards and the differentiated learning styles of the learners.
Prerequisites:
Aims:
The course intends to give insights into:
the implementation of teaching methodology into lesson planning.
Planning a single lesson into a sequence of lessons.
The preparation of non-traditional lessons
The development of a shared, communal resource file for supplemental materials.
Requirements for a Certificate:
Minimum attendance requirement is 75% of course events.
Practical Tasks like group and individual planning, observation, demonstration, micro-teaching, discussion and feed.
Assessed portfolio work
Details:
Throughout the training, the participants will also have the opportunity to prepare, present, and critique various lessons from the class books which they use in their classrooms. All in all, this course will allow every participant to understand the value and usefulness of lesson planning and will instill valuable principles that they can use in creating the perfect lesson plan. To use in their classes.
Course Outline:
540.01 – Fundamentals of Lesson Planning
540.02 – Different Types of Lesson Plans
540.03 – Seating Arrangement, Classroom management and Teacher Language
540.04 – Essential Components – Aims, Objectives and Procedures
540.05 – Sequencing – Logical progression of activities
540.06 – Using multiple Interaction Patterns to keep learners engaged and enthused
540.07 – Including Differentiated activities and materials for different Learner Styles
540.08 – Arranging Student versus Teacher talking time
540.09 – Designing Collaborative Learning Activities
540.10 – Pacing – Planning your timeline – Back-up plan – Time for Questions
540.11 – Including Assessment in Lesson Planning
540.12 – Reviewing anticipated Problems and possible Solutions