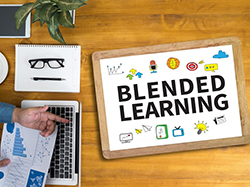 Course Description:
This course is intended to help teachers develop an understanding of blended learning, including what it is and how it benefits students. Through many examples, they will consider how to create blended learning experiences for their students and what to address when designing these experiences.
In addition, they will see how technology tools can foster collaboration while delivering engaging instructional content. They will also learn strategies for assessing students and managing a blended learning classroom.
Prerequisites:
610 CTS in Introduction to ICT in Education
Aims:
The course intends to give insights into:
a comprehensive learning management system
a well-defined blended course outline
clear blended learning objectives
a consistent basic structure and layout of the LMS
good communication with learners
the proper teacher training to facilitate optimal learning
Requirements for a Certificate:
Minimum attendance requirement is 75% of course events.
Assessed portfolio work for practical tasks like group and individual planning, observation, demonstration, micro-teaching, discussion and feedback sessions.
1000-word end of course Reflective Essay.
Details:
We believe that blended learning is an instructional methodology that leverages technology to provide a more personalized approach to learning, giving students control over the time, place, path and pace of their learning.
Blended learning allows adaptive, collaborative learning and transforms the role of the teacher from a disseminator of knowledge to a facilitator. Therefore, a combination of traditional and on-line learning in particular or e-learning in general creates a more integrated approach for both instructors and learners.
Course Outline:
620.01 – Blended Learning Process in School Context
620.02 – Creating and Organizing Course Content
620.03 – In-Class and Online Learning Activities
620.04 – Student and Teacher Roles and Responsibilities
620.05 – Integrating in-class and online learning experiences
620.06 – Learning Management Systems – LMS Software
620.07 – Elements of an Effective Learner-Centred Course
620.08 – Blended Instructional Strategies
620.09 – Communication and Collaboration Strategies
620.10 – Methods of Assessment and Evaluation
620.11 – Getting students ready for blended learning
620.12 – Course Management and Administration