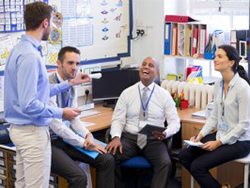 Course Description:
This course covers instructional leadership techniques, socioeconomic and cultural diversity, educational technology, conflict resolution and educational politics. It aims to place a high emphasis upon how to equip our teachers and students with the skills to engage in institutional and professional development and respond to best practice from a global perspective.
This course focuses on developing the professional skills required to meet the challenges of continuous change and its potential impact upon those who manage and lead schools and other teachers and educational practitioners.
Prerequisites:
Aims:
Requirements for a Certificate:
Minimum attendance requirement is 75% of course events.
Assessed portfolio work for practical tasks like group and individual planning, observation, demonstration, micro-teaching, discussion and feedback sessions.
1000-word end of course Reflective Essay.
Details:
Course Outline:
720.01 – Defining and Analysing the School, the Department and the Classroom
720.02 – Types of managers – the Ritualist, the Neurotic and the Robber baron
720.03 – Department Head roles – Catalyst, Solution giver and Process helper
720.04 – The relative roles of subject leadership and departmental management
720.05 – A cross-professional comparison to develop strategic and action plans
720.06 – Identifying, defining and clarifying the Needs of teachers and related Providers
720.07 – Acquiring relevant Resources and generating alternative Strategies and Objectives
720.08 – Providing appropriate Moral and Intellectual support
720.09 – Evaluating the success or otherwise of the process and solutions
720.10 – Boundary management – Preventing the loss of resources
720.11 – Defending departmental members against unjustified Criticism
720.12 – Recognising and improving Negative Influences in the department